ISIS Attacked Their Villages And Forced Them From Their Homes, Now These Iraqi Christians Are Armed And Looking For Payback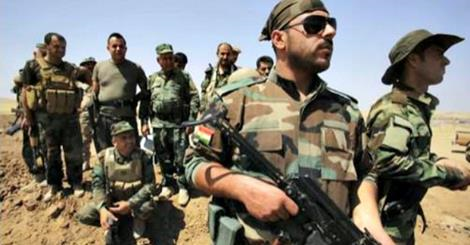 Militias in the Middle East aren't uncommon, and Iraq isn't any exception in the fight against ISIS. The Kurdish Peshmerga is an excellent example, since they are the most effective in fighting ISIS on the battlefield. Backed by the Kurdistan Regional Government in northern Iraq, it's one of the rare militias that allows Kurdish women to take up arms to fight.
Among the Shi'ite, Sunnis and even the Iraqi Communist Party's growing militias, a new minority has had enough. Training to fight against ISIS, Iraqi Christians have formed their own militia units. Calling themselves the Nineveh Plains Protection Unit, they're going to make a serious effort in retaking their homes from ISIS conquerors.
Just last November, a small Christian Militia fought alongside the Kurdish Peshmerga to liberate a Christian village named Bakufa. While the Christian Militia may be inexperienced compared to other long-standing Iraqi Militias, they were still effective enough to push ISIS out of their hamlet, taking down the black banner and replacing it with an Iraqi Christian flag.
There have been reports warning that territorial Iraqi Militias are actually replacing the Iraqi Military, but such forces aligning under one cause may be necessary to defend Iraqi Christians from Shi'ite and Iranian hostility. Once ISIS is gone, factional fighting between militias is a real concern, as there will no longer be a unifying effect from a common enemy.
Just as ISIS has been known to get reinforcements from foreign countries that are joining their criminal cause, a handful of Americans are starting to join these newly formed Christian Militias with the intent to defeat ISIS once and for all. Seeing as how President Obama has been woefully inadequate in meeting this threat, the Christian Militia the Americans are joining is called Dwekh Nawsha, which is ancient Aramaic that means 'self sacrifice', which is the actual language spoken by Jesus Christ. That language is still used by Assyrian Christians, who are indigenous to Iraq.
They are going to put their lives on the line against ISIS, to do what President Obama should have done long ago. Airstrikes are vital to supporting ground operations, but cannot win wars all by itself. Jordanian and Egyptian forces are aligning against ISIS, but with their limited resources, can only go so far in defeating ISIS forces, which seems to get an unending flow of support from those who enshrine the virtues of radical Islam.
It's a powerful statement against President Obama's leadership when Christians and Muslims come together to defeat a faction of radicals who are so evil, they anger other Muslims in their contested regions. Those moderate Muslims would have probably supported ISIS if they owned any sense of morality. Instead of supporting true evil, they are siding with their Christian neighbors who are fighting back to reclaim their very homes. We can only hope that this unifying cause can stay in effect once ISIS is finally defeated.